Download Case Study: Leading National Plastics Distributor Reaps Strong Rewards With FreightPOP's TMS Solution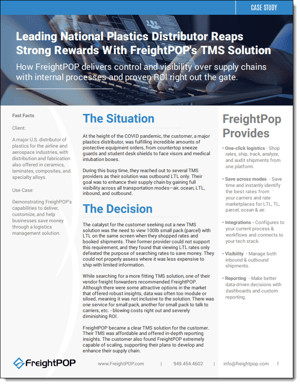 At the height of the COVID pandemic, a major national plastics distributor was fulfilling incredible amounts of protective equipment orders. Due to the influx of orders they determined that they need to significantly enhance their supply chain by gaining full visibility across all transportation modes. They were able to achieve this and more through FreightPOP's TMS shipping software.
FreightPOP's solution gave the distributor:
A huge reduction in the time it takes to secure low freight rates on each order
Integration into their internal systems to reduce administrative work and clear bottlenecks
The ability to manage inbound and outbound shipping
Enhanced reporting to make better decisions
Check out the case study to learn how we quickly rolled out our solution and helped the distributor gain better control and visibility over their supply chain.
Download now: Find out how our TMS helped this leading plastic distributor!