Freight & Shipper Optimization Guide:
Carrier Rate Shopping
Strategies for shippers to ship smarter, and ship easier!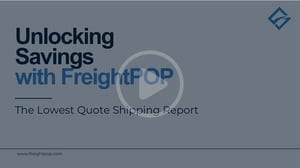 Every shipping company needs a strategy when approaching carrier rate shopping. Without one it's likely you are leaving money on the table because of several reasons. We have developed this four-part series as guidance on the basic elements crucial to those operating in the freight and shipping industries, which include: Carrier Rate Shopping, Streamlining Shipping, Tracking Deliveries, and Auditing Shipping Invoices.
Download this guide and learn:
About the current state of the industry
Where the industry is heading and why it's important to get in front of some trends
Why brokers are not your best bet
Tips from our experts on how to negotiate rates
More tips from our experts on shipping and freight optimization strategies
Download the guide today and start learning strategies to optimize your freight and shipping operations.
Download now: Learn shipping and freight optimization strategies from our experts!