Can't Get Your Freight Moving?
New Solutions to Improve Capacity and Access to Carriers in 2022 [Whitepaper]
Logistics experts, associations, and advocacy groups are all saying the same thing. Our global and domestic supply chain disruptions will remain a bumpy ride for years to come. As a shipper, you cannot afford to wait to make changes to your systems and processes, waiting for the myriad of issues to resolve themselves.
To succeed despite the challenges, you must streamline, automate, and stay on top of what experts advise.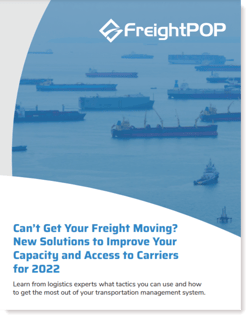 In our latest whitepaper, we consulted a cross-section of transportation experts who share fresh solutions on how to improve your capacity and access to carriers in 2022.
Download our whitepaper and learn how to:
Manage stakeholder expectations in

the current climate

Stop putting out fires

—and get organized!

Leverage carrier data and analytics

And much more!
Download the whitepaper for free to learn more!
Download Your Free Whitepaper